Having worked on this site. It became clear to me that a tutorial on how to draw lines and polygons would be helpful.
The first step is you need to get the area you are interested in displayed. You accomplish this by using the "Map Page" link on the page. This page allows the entry of the address you would like to see. After entering address press the "Display Address". The Map panel will then be updated to display the address entered.
The map panel displayed will have a marker at the address location.  You can measure a distance by selecting the open tool.
This tool will cause the cursor to change when over the map. The cursor will be a crosshair. You can then click on the map. This will place a marker at that location. A dotted line will then be displayed between the mark and the cursor. When the second mark is placed the distance between the marks will be displayed below the map. To exit drawing mode click on one of the marks. If there are more than 2 points then the area is calculated in acres.  The area is shaded.  The selection box allows the selection of one of four different lines. Each has its own length and area.
There is also a placement tool with line around the entire area.  The hand tool allows for the map to be moved.
If you have created a shape and want to make changes the right mouse click on the line markers will produce a pop up menu.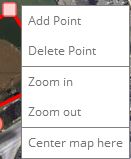 You can move any of the line corners by dragging the makers. If you need to add / delete a point the pop up menu will allow this option. When adding points they will be on top of each other.
Please let me know if you have questions.
Admin